New Weird Australia, Space Between Space is a work of four parts: quiet, loud, broken and fixed. Music of inquiry, of anger, of loss, of promise – and the space between all such things.
Available as a Name Your Price download / stream from Bandcamp.
All proceeds from this release will be donated to the Barpirdhila appeal, which supports Aboriginal & Torres Strait Islander artists & community affected by COVID-19.
Featuring: Onomino, Penelope Trappes, Millenium Cowboy, Plyanci, DroomData, Match Fixer, Uuxe, Friendships, Horse Macgyver, Party Dozen, Collector, Shoeb Ahmad, Night Dives, Sumn Conduit, Leven Canyon, Megan Alice Clune, K Wilson, PiP, eves, Laurence Pike, Clinton Green, T. Wilds, Noom, E Fishpool x 黑芝麻, Hannans, Greta Now, Slow Point, Decadent Discord. More information about the artists can be found in the companion booklet, bundled with the download.
---
Tracklisting.
New Weird Australia, Space Between Space | NWA019
Part I
1. OnominO – Prell (5:59)
2. Penelope Trappes – Drift (8:48)
3. Millenium Cowboy – Even In Shadows (5:20)
4. Plyanci – The Object Activates (3:03)
5. DroomData – Stoeptegels (4:43)
6. Match Fixer – The Flat Calls (4:08)
7. Uuxe – With Me (4:24)
8. Friendships – Blues From The Flying Pan (8:42)
Part II
9. Horse Macgyver – Fence View 24 (4:57)
10. Party Dozen – Balance (5:14)
11. Collector – Burned Out (5:09)
12. Shoeb Ahmad – Double Checks Against The Corner (d) (Peter Knight version) (5:39)
13. Night Dives – In Ember (6:48)
14. Sumn Conduit – Tongue (Epilogue) (5:44)
15. Leven Canyon – Wanna Be A Traveller (4:50)
Part III
16. Megan Alice Clune – Cut Space (3:35)
17. K Wilson – Years Will Move Away (3:10)
18. PiP – Snow Into The Carpet (3:15)
19. eves – pivot (9:40)
20. Laurence Pike – Ritual Body Posture (5:38)
21. Clinton Green – Four Turntables Under Swaying, Sympathetic Suspension (Quieter, Woody Objects) (7:56)
Part IV
22. T. Wilds – What To Do (2:45)
23. Noom – Deep Dark Dance Bubbles (6:15)
24. E Fishpool x 黑芝麻 – Calyx (feat. Zhi) (4:51)
25. Hannans – Laps (3:57)
26. Greta Now – So Fine (feat. DX and Harriet Stewart) (2:40)
27. Slow Point – Margins (7:09)
28. Decadent Discord – Be Here Now (7:20)
Compiled by Stu Buchanan
Artwork by Anywhen Studio
Released April 2021
All tracks previously unreleased.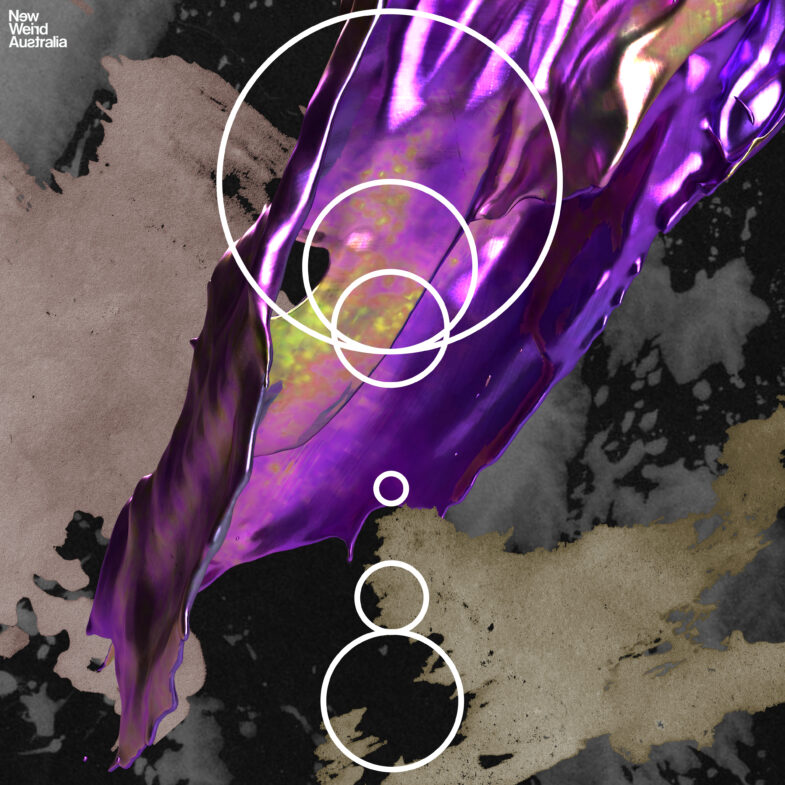 ---
Sleeve Notes.
We are living in a liminal point in time; rummaging through the detritus of an aberrant year, with no real sense of what comes next. It's unsettling and fucked up and unreal. Looking for resolution feels pointless; we're flanked by the feeling that this moment is perpetual. Nowhere is everywhere, everywhen is now.
This album collects twenty-eight explorations of this idea. All of the work is new and unreleased, created in and around this splinter in time. Responses range from the anxious to the audacious, the tumultuous to the transcendental. All propositions are valid.
Experienced in one-sitting, it's a work that moves through four parts: quiet, loud, broken and fixed.  Music of inquiry, of anger, of loss, of promise – and the space between all such things.
---
Press.
Infinitely pleasing that Stu Buchanan has turned his attention back to his New Weird Australia project, uncovering strange sounds from around the country for adventurous ears. New compilation Space Between Space sees its contributors expressing the liminal experience of our current situation, and all proceeds will benefit First Nations artists & community affected by the COVID-19 crisis. To start up, we heard Melbourne jazz/electronic musician Peter Knight pushing a forthcoming track from Canberra's Shoeb Ahmad into the red. Then NT-based DroomData dissipates their drones halfway through to give way to touching spoken word in Dutch, and finally the Narrm/Melbourne-based Michelle Nguyen's Noom gives us squelchily warm bouncing rhythms.
Utility Fog, FBi Radio
Next is the mega epic 28 track this comp album Various Artists album by label called New Weird Australia and album entitled Space Between Space and as far as I can tell they only release comp albums too! Released very early in the month so I guess, I've had the most time with it but it's so bloody wicked, you know? It's mainly electronic music, if want it sum-up in one genre but they're some other styles as well. Highlight some tracks, if 28 is a bit too much or something? Burned Out by Collector would be the best/my fave if you want me to name just one, who blogged about earlier this month and Friendships' Blues From The Flying Pan is another one who I'd seen them live once, off course a while ago by now plus I think, The Flat Calls by Match Fixer, Fence View 24 by Horse MacGyver and Ritual Body Posture by Laurence Pike are wicked cool too but I know those all artists so maybe, I'm just naming everyone I knew before? As the highly recos but the all the rest are really great too, I've been slowly checking most of them out so if you have the time? Just listen to the whole thing! Make-up your own mind, you might totally dislike it!
A Thousand Mistakes
---
NWA019 was compiled on the sacred land of the Darug People. We acknowledge the Traditional Owners and Custodians of the lands on which we work and pay our respects to Indigenous Elders past, present and emerging. Sovereignty has never been ceded. It always was and always will be, Aboriginal land.