Featuring 25 tracks across over two hours, Fragile States is a collection of ambient / experimental / electronic works that seeks to soundtrack our perilous times.
Available as a Name Your Price download / stream from Bandcamp.
Ambient Music was defined by Brian Eno as "atmosphere … a surrounding influence", and designed to induce "a space to think". Fragile States aims to capture the atmospherics and influences of today's environments, and in doing so, highlights the notions of "doubt and uncertainty" that were so present, and so prescient, in Eno's work.
Although he sought to make his Ambient Music "as ignorable as it is interesting", such a stance is not at all viable or desirable in these times. Rather, Fragile States proposes a 'conscious ambience', one which is entirely in lock-step with our social and political malaise. It is not music to be ignored, it is music for connection and purpose. Atmospheres for change and action; for tuning in, not tuning out.
The Fragile States cover artwork features a painting by Tahlia Palmer, aka amby downs, who also contributes an unreleased work for the compilation, alongside alsi, Ambient Lights, Bradfield Dumpleton, Chloë Sobek, Freya Berkhout, Hantu, ilex, James Hazel, JWPaton, K Wilson, Madeleine Cocolas, Madenda, Melanie Velarde, Mookoid, Nina Buchanan, Okuesha Kills, Puscha, Reuben Ingall, Salllvage, Sebastian Field, Silonics, Third Space, Timothy Fairless and Travis Cook.
The compilation will be available as a 'Name Your Price' release from New Weird Australia Bandcamp. All proceeds to Seed Mob, Australia's first and only Indigenous youth-led environmental organisation; and Firesticks Alliance, who provide Indigenous leadership, advocacy and action to protect Country through cultural fire and land management practices.
---
Tracklisting.
New Weird Australia, Fragile States | NWA022
1. Madeleine Cocolas – Exhale 86 (6:17)
2. JWPATON – Clearcut (4:24)
3. Travis Cook – heaven_2022 (4:03)
4. Okuesha Kills – Version 1 (3:07)
5. salllvage – Gaguru Revenant (3:13)
6. ilex – Kodamas (10:11)
7. Reuben Ingall – Thinking About Something Else (2:53)
8. Third Space – Dowlais (4:16)
9. Nina Buchanan – Special K (4:37)
10. Hantu – New Memory (3:36)
11. amby downs- a lightning ridge opal mine anxiety (4:28)
12. alsi – When You Touch Me, I See Visions (5:16)
13. Chloë Sobek – Metamorphosis (7:54)
14. Puscha – The Heathens Who Long For Night, Not To Be Forgotten (8:06)
15. Sebastian Field – Vanishing Point (4:32)
16. Madenda – Serenity (2:57)
17. Silonics – Homebuyer's Dream (Excerpt) (2:36)
18. James Hazel – bodies stretched beyond the mediant (12:18)
19. Mookoid – Transgressor (9:04)
20. Bradfield Dumpleton – Out Of The Frying Pan (6:07)
21. K Wilson – Open Palm (4:10)
22. Timothy Fairless – DisConnective Tissue (5:45)
23. Melanie Velarde – Donuts (2:32)
24. Ambient Lights – Trying To Stay Positive (4:15)
25. Freya Berkhout – Maudlin (3:38)
Compiled by Stuart Buchanan.
Cover Painting by Tahlia Palmer. ambydowns.bandcamp.com
Released December 2022
All tracks (excl. 15) previously unreleased.
Download includes PDF booklet with artist bios and links.
---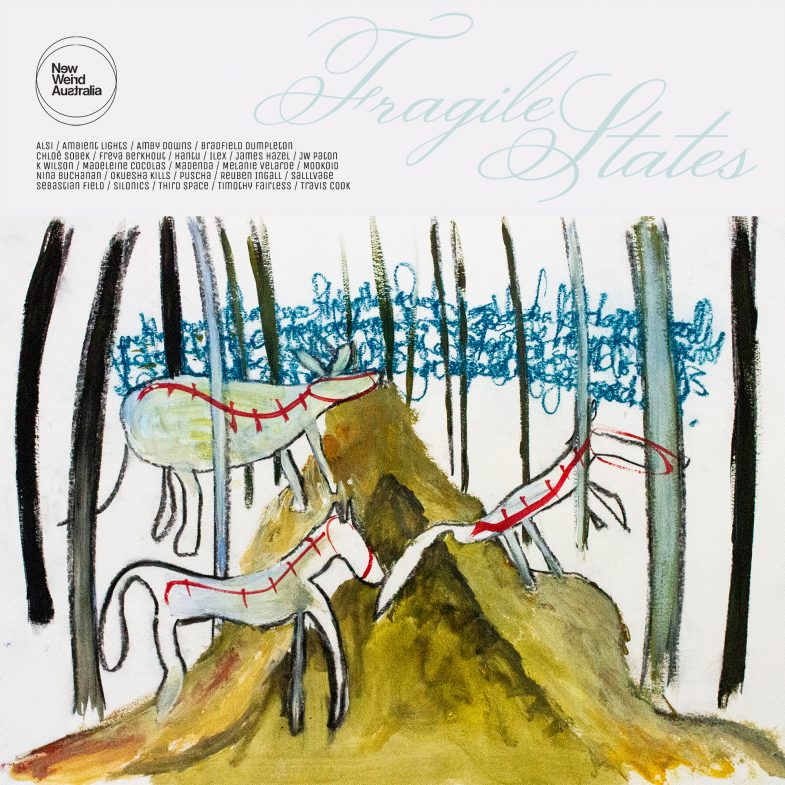 ---
Press.
New Weird Australia's 30th compilation is an eclectic collection of ambient, experimental and electronic works seeking to soundtrack the atmospheres of "our perilous times". Accompanying information explains how the 25 tracks curated and sequenced by label founder Stuart Buchanan engage with ambient aesthetics that aren't passive and blank, but rather active, engaged and possessing a point of view – "conscious ambience" in "lockstep with our social and political malaise". Fragile States features an exciting cross section of emerging and established Australian talent, including among others Freya Berkhout, Chloë Sobek, Timothy Fairless, Hantu (Isobel D'Cruz), Mookoid (Mick Lampert), Silonics (Gary McKie), ilex (Holly Conner), Nina Buchanan and Bradfield Dumpleton. The set opens with Madeleine Cocolas's "Exhale 86", a cold softness unfurling from the fog with breaths on top of widening synth drones, the pitch a slow creeping tide, an ever-tightening screw. JWPaton's "Clearcut" groans with rhythms grinding on rusted hinges, a sound slowly subsumed by scorching distortion. Third Space's "Dowlais" is both crystalline and agitated, with glass-toned drones glinting behind frenetic beats, an impossible distance between foreground and horizon. The churn and pull of reversed tones on Puscha's "The Heathens Who Long For Night, Not To Be Forgotten" feels like standing in the grip of a receding ocean wave. On "Bodies Stretched Beyond The Mediant", James Hazel allows weary acoustic drones to sag and sink into microtonal shifts. Melancholy atmospherics are punctuated by moments of charming weirdness – Okuesha Kills's sweetly manic "Version 1", the rubbery, uncanny unreality of Alsi's "When You Touch Me, I See Visions". Tracks like Melanie Velarde's "Donuts" and K Wilson's "Open Palm" tap into a dreamy kind of loneliness. Another standout is Sallvage's "Gaguru Revenant", a heightened field recording featuring kookaburra calls, the hiss of insects and possibly something ominous lurching in the shadows.
Leah Kardos, The Wire
Fragile States takes as its referents '90s ambient compilations such as Kevin Martin's incredible Ambient 4: Isolationismam, and as such, there are desolate drones (Madeleine Cocolas' literally breathtaking opening track), there's delicate softness, beatless maximalism and much more. And it's not, in fact, all beatless: Naarm/Melbourne's Third Space often makes techno that flirts with drum'n'bass tropes (or is it the other way round?) and here the first half of his track is ambient, and then it accelerates into skittering beats. Also hailing from Melbourne, on unceded Wurundjeri land, is alsi, whose disembodied voices are interlaced with glitched crackles and ominous sound-design on her track "When you touch me, I see visions".
Utility Fog, FBi Radio
---
NWA022 was compiled on the sacred land of the Darug People. We acknowledge the Traditional Owners and Custodians of the lands on which we work and pay our respects to Indigenous Elders past, present and emerging. Sovereignty has never been ceded. It always was and always will be, Aboriginal land.