Monad by Pattern Recognition Machines is Edition No.11 (NWAED011) in the New Editions artist series, curated by New Weird Australia.
Pattern Recognition Machines is an improvising musical unit of human consciousness interfacing with technology based in Melbourne, Australia. Originally the synth-and-drum project of Vijay Thillaimuthu and Sam Price, they have since been augmented by the addition of Chloë Sobek on Violone & electronics and Robert Vincs on Woodwinds.
Discreet and indivisible, we are the ancestors of those most successful in mining patterns. Monad is contingent; patterns emerge from processes of abduction (perceiving unverified patterns in the data) and apophenia (attribution of pattern to a non-pattern) – the dataset resists classification.
Available as a Name Your Price download / stream fom Bandcamp.
---
Tracklisting.
1. Monad 06:02
2. Dark Tantra 07:31
3. Something Happened 03:31
4. The Garden of Tuileries 03:57
5. Black Moon Lilith 06:36
6. Macerated Void 04:48
7. Unspoken 03:52
8. Chimera 05:29
---
Credits.
Chloë Sobek – Violone & electronics
Robert Vincs – Woodwind
Vijay Thillaimuthu – Synthesis
Sam Price – Drums
Recorded, mixed and mastered by Niko Schäuble at Pughouse Studios, Melbourne.
Cover Image by Vijay Thillaimuthu.
Released October 2022.
---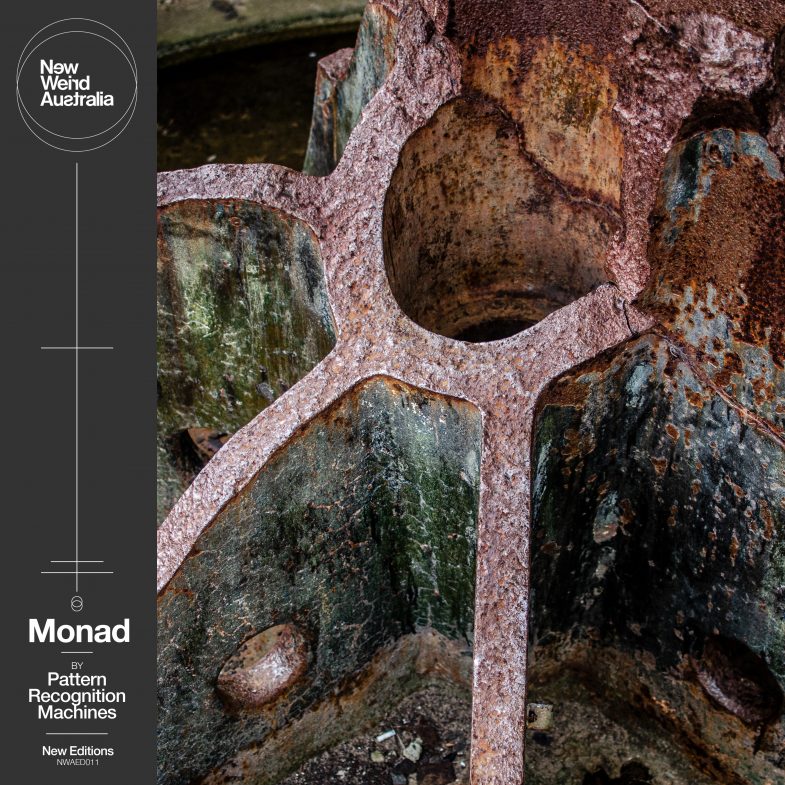 ---
Press.
When we spoke to Pattern Recognition Machines after the release of their second album Defunct a couple of years ago it was a modular and drums duo of percussionist Sam Price and electronic musician Vijay Thillaimuthu. They called their music 'death jazz', which seemed pretty apt, a unique collision of styles, from krautrock to jazz to experimental electronics. It was ridiculous, bombastic, and strangely intuitive.  They've since added Chloë Sobek on Violone & electronics and Robert Vincs on Woodwinds to their lineup, which has surprisingly not so much beefed up their sound but provided additional range. I'd call it death jazzier. Or maybe new weird death jazzier. Their new album, released by New Weird Australia is Monad, which is the 11th edition of their New Editions artist series, and its a pretty incredible listen, the woodwinds, electronics and drum kit dancing around each other and interweaving in all manner of weird and wonderful ways. It's slightly demented but oh so satisfying.
Cyclic Defrost
Pattern Recognition Machines started as a duo of drummer Sam Price and electronics from Vijay Thillaimuthu, but for this new album they are joined by veteran experimental musician Robert Vincs on "woodwind" (lots of sax but evidently other instruments) and Chloë Sobek on violone (a relative of the double bass) and electronics. There are dirty grooves and wailing noise on this release, but I really liked the scrabbling non-music/music of The Garden of the Tuilleries.
Utility Fog, FBi Radio